Slings
The right sling for every situation
Handi-Move is an expert in slings.
Transfers to and from bed, bath, shower, toilet or wheelchair in a lying or sitting position are easy thanks to Handi-Move's slings. They can be used in combination with all Handi-Move lifting systems. Our slings adapt to every situation and limitation. They are developed to provide comfort and support.
The materials Handi-Move uses are sturdy and durable. The lifting slings are available in netting, solid fabric, parachute fabric or PVC. They are available in different sizes and models, with or without head support.
Our advisors will be happy to guide you in choosing the most appropriate type of sling for your specific situation. If in doubt, you can also try out a sling. Handi-Move can also offer you a tailor-made sling.
Handi-Move's slings are delivered from stock. Most slings can be washed and dried in the washing machine.
Tailor-made slings
A sling can be customized to accommodate the end user needs.
Change the material, adjust the straps, modify the closures.
The SureHands representative will assist to create a personal design to work safely and accomplish the goals.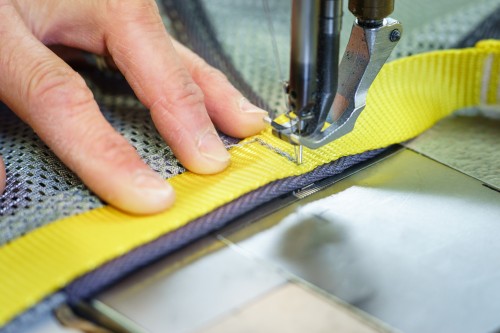 How to choose the right type of sling?
Rely on the SureHands trusted adviser. Discuss where transfers will be made, any special requirements, and all sizing considerations. The appropriate sling benefits the end user and the caregivers.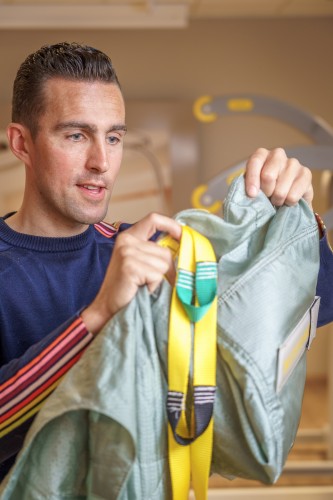 How to choose the appropriate size sling?
A general guide of height and weight will be considered. Our advisors will assist to make sure the most suitable sling is provided.
Durable, dependable slings : focus on safety and quality
Surehands manufacturer subjects the slings to extreme testing to ensure quality and safety. The slings undergo 30,000 test cycles in specially designed equipment to test endurance and quality.