A personal approach at every step
SureHands® Lift & Care Systems is dedicated to finding the right transfer solution for each customer's unique needs. You can expect a friendly welcoming approach from professionals who take the time to consult with users and caregivers. Collaboration and personal attention assures a lift system that provides the most efficient and dignified way to transfer. SureHands solutions are practical for both private and professional users with variety of equipment that can serve private homes, group homes, schools, hospitals, day care centers or any setting that requires mobility equipment for patient care.
Analysis, Advice and Guidance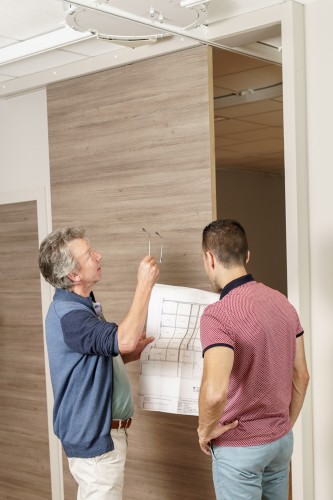 Free demonstration to analyze your transfer needs
Your SureHands representative will help guide you through the process when a lift & transfer solution is being considered. A free demonstration at your home or facility can be provided to discuss where the lift & transfer needs are, be it from wheelchair to bed, bath or toilet; they will determine which rooms would need a patient lift. To ensure the solution is appropriate the representative will bring equipment for an evaluation. All aspects of the care environment are taken into consideration; the ability of end user, the caregiver's expectations and the structure of the building are applied to design your customized lift solution. A detailed proposal will be provided with the recommended lift system that best accommodates your needs.
Personal attention that makes a difference
SureHands Lift & Care Systems has a network of dealers and representatives that are knowledgeable and experienced, possessing both an expert understanding of the equipment as well as the diverse needs of our customers. They are dedicated and driven by a true desire to provide you with the best lift & transfer solution. By staying engaged throughout the process you can rely on their input and advice from initial consultation, to installation, training and service. This personal attention allows you to be comfortable and confident in the knowledge that the SureHands system will be the right solution to accomplish your goals.
Detailed quotes
Your SureHands representative will take measurements of the area where a ceiling lift is being considered. They will create a drawing to determine which elements are required for the customized lift layout. A detailed quote will be provided to give you a clear picture of the cost of the system including the installation.
Remodeling or Building
Contact SureHands during the planning stage for suggestions and advice.
Most ceiling lifts can be installed in an existing home without structural modifications. Your representative will make sure the track is properly installed including any doorway, header or blocking adaptations that may be needed.
If you are planning a remodel or new construction it is recommended that you consult with your SureHands representative at the planning stage of the project. They can work with your architect or contractor and advise you on how to properly prepare the area to be ready for a ceiling lift. By considering structural challenges and being proactive with decisions in the location of power, lighting, vents, false ceilings, doorways, headers and blocking the installation of the ceiling lift can be much more efficient.
Architects and Engineers
Building homes for people with disabilities requires much forethought into the design and equipment that will benefit them, their families and their caregivers. When you are working with a family that would benefit from a patient lift please contact the SureHands representative in the concept stages and they will provide you with architects documents and information to lead to an effective plan.
Home Solutions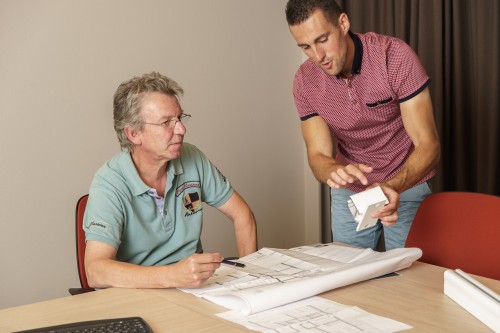 A SureHands Lift & Care System can change your life. With over 25 years' experience in residential solutions, SureHands is ready to help you find the right answer. Whether your goal is to live independently or to transfer with a caregiver's assistance, a dedicated SureHands representative offers advice and guidance to make it happen. The challenges of transferring out of bed, to the toilet, tub or shower can be overcome with the variety of equipment that offers a real opportunity to maximize the user's abilities, and with interchangeable accessories your SureHands lift can adapt to the fluctuating needs of the user. Caregivers also benefit because they can manage the transfers in a safe and efficient way, protecting the end user and themselves from injury. For information on how to live at home with ease and dignity contact SureHands Lift & Care Systems at Contact Us or call 800-724-5305.
Professional installation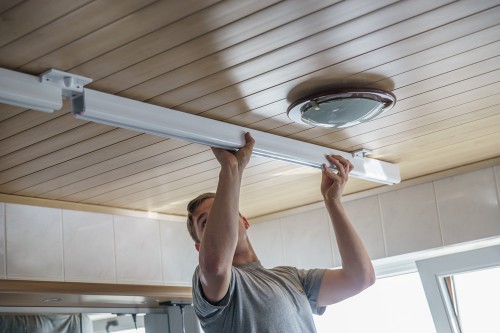 Correct, neat and safe installation
All installations of the track for ceiling lifts, wall lifts, and pool lifts, are done by a SureHands authorized and experienced installer. They ensure the proper and safe placement of the lift system. Through rigorous planning and preparation the installation is done with minimal disruption.
Post Installation
Once the installation is complete the installer will test the rail to ensure it meets the standards dictated by the manufacturer as listed on the inspection checklist. This attention to detail and dedication to providing a safe and sustainable system illustrates SureHands commitment to excellence.
Training and Equipment Review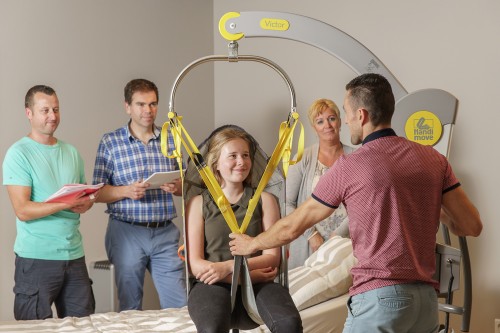 Onsite training
After the installation is complete your SureHands representative will show you and your family/caregiver the proper use of your SureHands Lift & Care System. They will review how to operate the lift and provide a comprehensive training on how to use the Handi-Slings or SureHands Body Support. It is important to take the time to make sure all people using or operating the lift are confident in their ability to properly make the transfers. This is an excellent time to ask any questions, but know that your representative can always be called for advice.
Owner's Manual
Each SureHands system is accompanied by a comprehensive manual. It contains all the information regarding the various components and you will discover detailed explanations on the use of the system and accessories. The manual also contains useful information for maintenance. You should keep the owner's manual as reference and call your representative if your system requires an inspection or maintenance.
Warranty, Repairs and Maintenance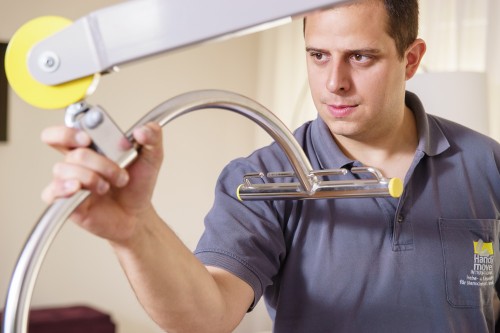 Strong Warranty
All SureHands Lift & Care Systems are backed by an exclusive manufacturer 2 year* warranty on parts from date of sale. Parts that might fail despite the strict quality controls during the warranty period are replaced. Just call your representative if your lift does not function properly and they will diagnose the problem and quickly find a solution.
*Some states and government warranty vary.
Continuity of Service
SureHands Lift & Care Systems is the exclusive North American distributor for Handi-Move International. Handi-Move is a family owned company that has over 30 years of experience and has partnered with SureHands for more than 25 years. To provide continuity in their products Handi-Move is committed to maintaining spare parts for at least 10 years after the purchase.
Yearly inspections: Keep your lift system in good condition!
Schedule a yearly inspection to keep your system in optimum condition. A regular checking of your lift will help keep your system operating properly. Preventative monitoring by an authorized SureHands technician will address routine matters reducing possible disruption to the use of your lift.
Call your local dealer or SureHands Lift & Care Systems at 800-724-5305 for information on scheduling an appointment.