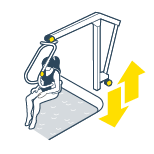 Easily move directly between you wheelchair and a swimming pool or therapy pool. This requires only one attendant and no physical exertion. There are two options here: a mobile pool lift or a ceiling motor with a rail system.
Mobile Pool Lift with the assistance of a caregiver
The SureHands® Pool Lift is perfect for use in the pool at school. It is easy to engage and disengage from the floor socket and can be rolled away when not in use.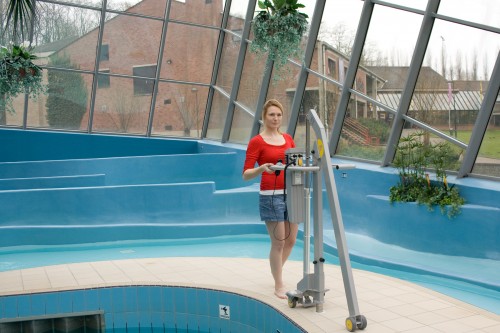 Into the pool with the SureHands® Body Support and ceiling motor
SureHands does not only offer the pool lift, but also a celing motor can be used as a pool lift. Ideal for intensive use and in pools where floor sockets cannot be installed. You are prefectly safe in the SureHands® Body Support.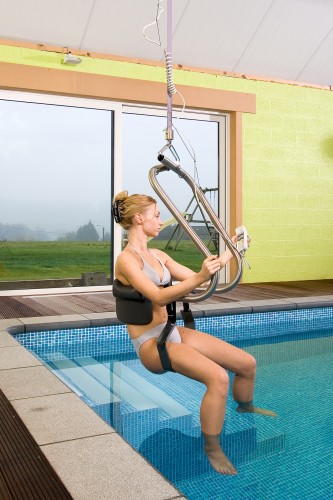 Jacuzzis now also accessible for people with reduced mobility
Increasingly more people have a private jacuzzi in their own wellness room, on a terrace or in the garden. SureHands® now also provides access to jacuzzis for people with reduced mobility. A SureHands advisor assesses and analyses the requirements and the practical and technical aspects of the situation together with the client at his home. Using a mobile lift system, the Wall Lift or railsystem with motor, the user will be able to transfer from the wheelchair to the jacuzzi. SureHands offers flexible solutions in specific situations. Tailored solutions are available if a standard product doesn't meet the requirements.