Ergonomic lifting with no loss of space
Independent transfer possible with SureHands® Body Support
Accommodates conventional slings
Motor and rail systems make it possible to access all areas
Automatic stop at any desired spot
Sideways movement with adjustable speed
Wireless control optional
Back-up control on motor
Mechanical emergency down feature that can be enabled by the user
Ceiling motor
Imagine: you want to move freely in all spaces without being hindered by doorways, carpets or obstacles on the floor. Realize your dream with a 2800 series track system for continuous movement from room to room. A local representative will work with you to custom design your layout to safely bring you where you need to transfer.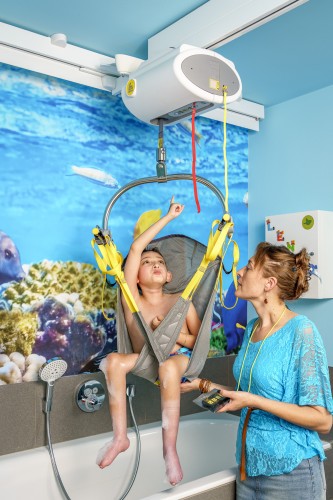 Ceiling motor with lateral motor drive - living independently
If you have lost the ability to transfer manually but you still have a limited range of motion with adequate muscle tone, it may be possible for you to self-transfer with either the 2800 L or 2800 LRC track system. Go from your bed to wheelchair, toilet or bath to be as independent as possible. The system can lift you from the ground and has a lifting capacity of 440 lbs . The motor, which operates on rechargeable batteries, is quiet with a soft stop and start motion.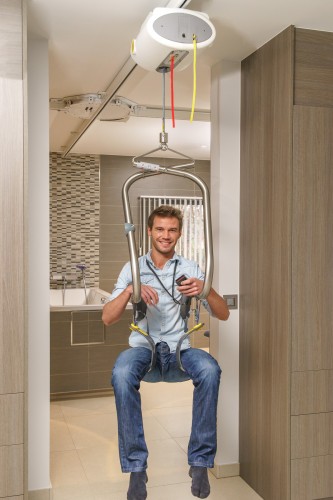 Attendant care systems with manual lateral movement
Let the motor help you with the strain of lifting and lowering. Easily transport the person laterally along the track system once they are suspended.
Transfers to bed, bath or toilet have never been easier. All SureHands® track systems can be used with either SureHands® body support or SureHands® slings. So everyone can be accommodated regardless of their disability. SureHands® track systems are perfect for professional as well as private applications.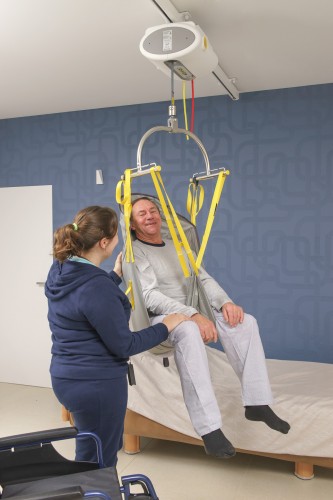 Self-transferring from wheelchair to bed
You can use a ceiling motor with a SureHands® Body Support to move between your bed and your wheelchair. You decide when you get up or go to sleep!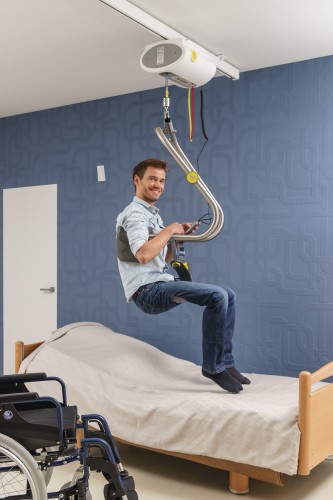 Into the bath with the SureHands® Body Support
The SureHands® Body Support is made from stainless steel and is rust resistant. It does not have any components that absorb moisture so it can be wiped dry and is easy to clean and disinfect. This makes it perfect for use in bathing and swimming.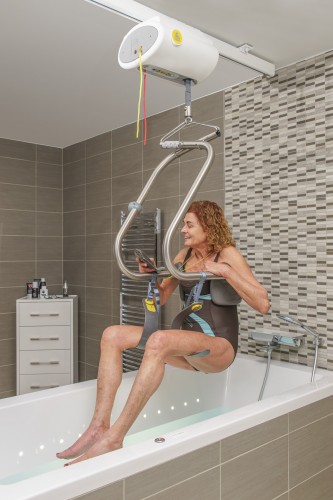 Ideal for the toilet
A SureHands® Body Support is helpful for toileting independently because the fully unencumbered bottom and back region allows for easy access to clothing.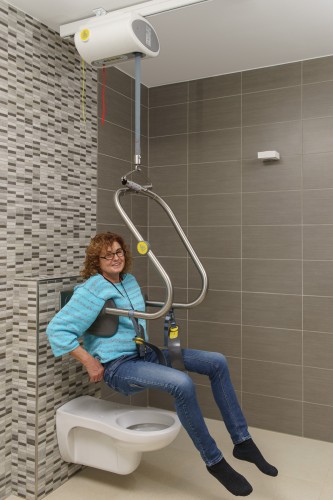 Into the pool with the SureHands® Body Support and ceiling motor
SureHands does not only offer the pool lift, but also a celing motor can be used as a pool lift. Ideal for intensive use and in pools where floor sockets cannot be installed. You are prefectly safe in the SureHands® Body Support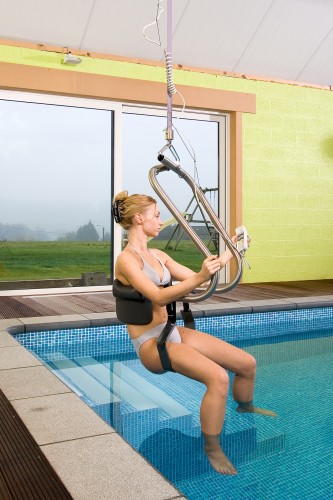 Customized solutions
Avoid costly remodeling of spaces that are not ideally set up for transfers. With numerous off-the-shelf accessories to choose from, e.g. curved and traverse tracks, switches and turning disks just to name a few, SureHands® offers you plenty of options.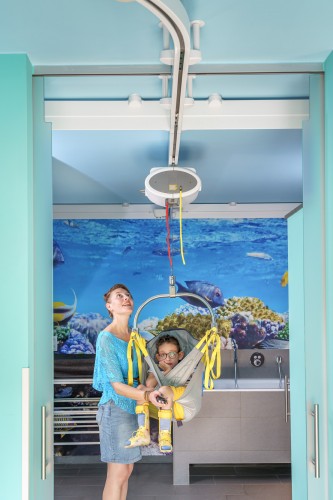 Discreet appearance blends with each interior
With its grey finish and muted, aesthetic styling,the ceiling motor blends nicely into most interiors.
Distance control anywhere on the ceiling track
SureHands provides magnetic contacts for use with the 2800 L and the 2805 IR ceiling motors, which can be placed anywhere along the track to insure that the motor will stop at certain predetermined places, e.g. middle of the toilet, on the charging pins, etc.
Mechanical emergency down and dual controls
As an additional safety measure, a mechanical emergency down has been incorporated that can be operated independently.