"Your lifts offer dignity, value and independence to my kids every single day."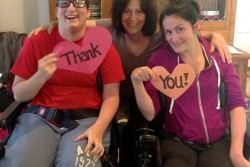 Mary Caruso, mom with two children with Friedreich's ataxia (USA)
A lot of customers love their SureHands lifts, but it is something special when a customer rises to the level of advocate. That is what we have in Mary Caruso!
A mom with two children with Friedreich's ataxia, it is second nature for Mary to speak up for what she believes in. "We have your lifts in our home since 2005. I remember the day my kids, Sam and Alexandria, sat through multiple demonstrations from the different vendors. They knew immediately that the SureHands lift was for them. To this day they call their lifts the lift with dignity. Those lifts have traveled to college and back home. They have used the lifts independently for many years, through college etc. Currently, they use the lift with assistance. It is so versatile yet lets people maintain dignity."
As part of a Friedreich's ataxia parents support group, Mary participates in meaningful ways to find answers and assist others. Her commitment led her to be a presenter to the FDA in Bethesda, MD as part of a Friedreich's Ataxia Foundation Patient Focus Day. Mary, Sam and Alexandria are all happy to offer advice and answer questions to help others who are searching for solutions, like Manes in Motion (a therapeutic riding center), colleges, hospitals, even vacation spots. They are always ready to talk about the benefits of having 5 SureHands lifts.
"Individuals with disabilities are so dependent and grateful for your lifts. Our life has been so enhanced by our SureHands dealer, Jeff Borkowski. We cannot say enough about him. He is always a phone call away and his professionalism and service outstanding! He makes the SureHands family experience always respectful and positive."
Through their love of traveling, Mary, Sam and Alexandria, have come to meet SureHands representatives throughout the USA. "I have to tell you about the amazing service we have received from some of your team. In Florida we worked with Mark McClellan and Todd Mellenberndt. They truly made our trip so successful! What amazing men you have on your team!!" Also, there is Greg Hockensmith from Arizona Lift & Care Specialists in Arizona, "I once again was humbled and grateful to find a person who understood the importance of the SureHands to us and exude that same level of dedication to our family!! "
"Thank you so much for all you do."