"SureHands® has moved us into the 21st century with EASE"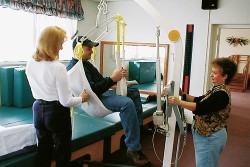 Sherry Rowe, PT Director in a large state facility, North Carolina
Our large (546 bed) residential, state facility has approximately 150 non-ambulatory, developmentally disabled individuals, many of whom are aging, medically fragile and with multiple handicaps. A large component of Physical Therapist's time includes ongoing in-servicing on proper body mechanics and manual lifting techniques as well as instruction on mechanical lift systems.
The introduction of SureHands® to our facility has markedly changed our service delivery system and has greatly enhanced services to our individuals. An immediate positive impact was realized as we obtained both the mobile units and the overhead ceiling track system for the bathrooms. SureHands® staff provide excellent, thorough in-servicing for all staff and work closely with the Physical Therapy personnel in coordinating the initial and follow-up in-servicing. Direct care staff appreciate the ease with which the system can be operated and there is increased efficiency in the overall daily schedule.
The style of slings give options to the staff for the most comfortable and effective lift position from reclining to more upright sitting posture. Slings are easy to apply, do not require a manual lift to get into place, and provide comfort for our medically fragile individuals.
Safety is improved with the reduction of lifting injuries, and individuals feel safe and secure and relaxed during the lifting process. Staff can now provide multiple lifts required each day with greater ­efficiency and individuals can be transferred to and from beds, toilets, mat table, wheelchairs, mats on the floor, etc. with ease.
The overhead ceiling track system was designed to allow the transfer of the individual from wheelchair to toilet to bathing table and does not take up ­valuable floor space in the bathrooms. The combination of the ceiling track systems and the mobile units have changed the way we do business here. We continue to improve our facilities with the addition of newly renovated bathrooms, complete with the SureHands® ceiling track system and high-low tub units. Increased safety, comfort, convenience and efficiency afforded our facility through the use of the SureHands® system has significantly changed the lives of our staff and individuals.