SPC Alexander Hussey  
Washougal, Washington
Key Ceremony

Saturday, May,12 2018 10:00 am
sS

(Check-in begins at 9:30 a.m.)

CLICK HERE
TO RSVP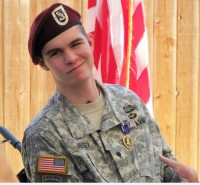 Alexander Hussey joined the Army shortly after high school. After Infantry training and jump school, he served with the 82nd Airborne Division deploying to Afghanistan in early 2012.
Two weeks before his tour was over, on Aug. 7, 2012, Army Specialist Hussey was on patrol with the 508th Parachute Infantry Regiment (4th Brigade) in Kandahar Province in Afghanistan when an improvised explosive device was set off near him. SPC Hussey was immediately knocked unconscious by the blast and does not remember the incident. He lost both legs and left hand and sustained a traumatic brain injury (TBI).
Airlifted to Landstuhl, Germany, SPC Hussey was not expected to live. After two weeks with his family at his bedside – and still unconscious – he was transferred back to the United States. After two months at Walter Reed, he was sent to the Palo Alto VA's Poly Trauma Center, where he emerged from his coma six months later. Soon after, he transferred to a rehab facility in Southern California. There he regained his ability to comprehend his surroundings, speak clearly, eat and move his body. He currently uses a wheelchair but does equestrian and pool therapy to further his recovery.
Alex married his wife Kim in October 2013 and they currently live with Alex's parents. Kim describes her husband as an energetic, happy person who brings smiles and strength to everyone. She says it'll be amazing to finally have a home fully accessible to Alex. The two are looking forward to having a kitchen big enough for them to cook together. A lover of the outdoors, Alex is also excited about having easy access to the backyard.
Alex is choosing to build his home in Washington, to be close by to family who are right across the state border in Oregon, where he and Kim grew up.
The home will allow Alex to be a part of a community and allow him to pursue his goals and give back. He would like to eventually help other Veterans and volunteer at an animal shelter. He would also like to play basketball and eventually coach.
Alex and Kim say a specially adapted home is truly the best gift they could receive. "Building homes for Veterans and their families is a blessing," Alex says. "It gives them a chance to be a family in a home that does not limit the Veteran to one room; it gives them privacy and a chance to be a family without the hospital."
Updated: 4/6/17
For more information on how to get involved in this project contact our Community Outreach Department at coc@hfotusa.org. For media inquiries contact media@hfotusa.org.